Bitcoin (BTC) has been on a massive bull run ever since it smashed its previous all-time high (ATH) of $20,000 in December 2020, a milestone set more than three years ago.
BTC has reached a new record-high of $56,286 on Coinbase, although it has since pulled back to $55,304 at the time of writing, per data from CoinMarketCap.
New data by Glassnode reveals that the number of Bitcoin addresses with more than 0.1 BTC has also broken a record. The on-chain data provider noted: 
"Number of Bitcoin addresses holding 0.1+ Coins just reached an ATH of 3,195,200."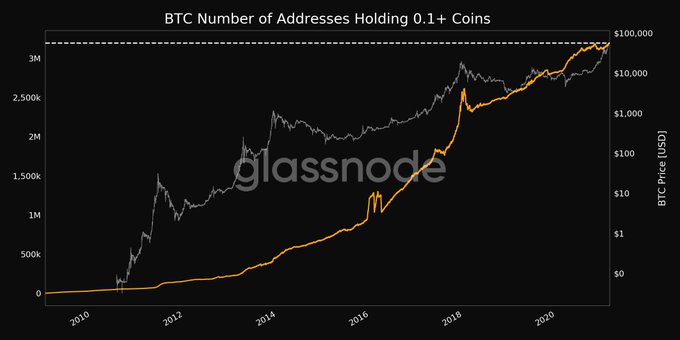 These statistics show that more participants are joining the Bitcoin network. For instance, with a projection of 1 billion people using BTC in the next four years, Dan Tapiero, the co-founder of fintech and digital asset firm 10T Holdings, believes that this trend will push Bitcoin's price above $500,000, a prediction that has been given by crypto analyst Willy Woo.
Bitcoin's value goes through the roof
Bitcoin has been edging closer to a market value of $1 trillion, but this target was finally realized after the leading cryptocurrency soared past the $55,000 mark. Its market capitalization currently stands at $1.03 trillion, according to CoinMarketCap. 
With this milestone, Bitcoin is now more valued than leading corporate giants like Tencent and Tesla, with a market capitalization of $927.12 billion and $757.86 billion, respectively.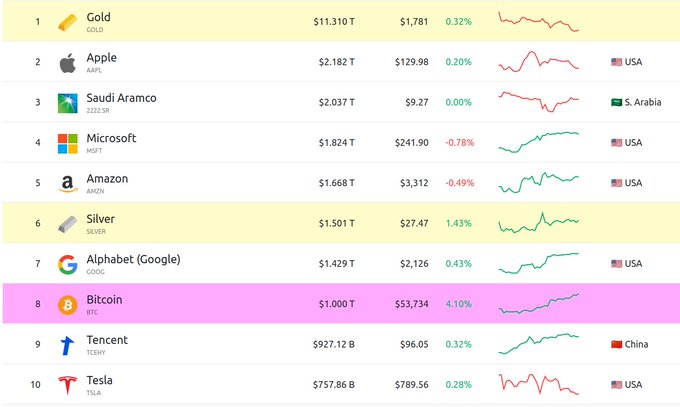 Institutional investments have been the engine behind BTC's current bull run. Corporates have shown their overwhelming appetite for the leading cryptocurrency based on factors like the fear of missing out (FOMO).
For instance, leading business intelligence firm MicroStrategy Inc. has completed its offering of $1.05 billion in convertible senior notes, a raise that would allow the firm to purchase another $1 billion in Bitcoins. Recently, the corporate giant announced the debt sell-off of $600 million worth of convertible senior notes to qualified institutional buyers.
Image source: Shutterstock

Credit: Source link